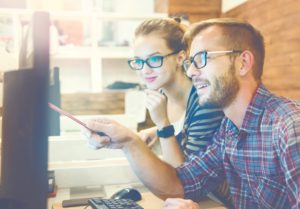 Office refurbishment and office fit out projects are a good opportunity to think about how your business and office functions. You may want to see more collaboration between teams, to provide a more professional space to meet clients, or to provide a dedicated space for staff training. Considering not just what you want, but what your employees want from an office refurbishment can help to improve how employees feel about their jobs.
In many industries it is difficult and expensive to recruit the right staff. Providing an office that people want to work in can be a major selling point. Having an office that people enjoy working in and are proud of can also be a major factor in staff retention. So, that brings us to the question of what employees really want from an office.
What Workers Want
Research published by the British Council for Offices with Savills and YouGov looked at what workers like about their current offices and what they would want from their ideal office. Some of the responses were very clear:
Workers of all age groups preferred town or city centre offices
Dedicated offices were preferred to serviced office, innovation centres or similar
60% of workers wanted their own dedicated desk or workspace
Only 4% of workers wanted to hot desk or share desks
When asked what the most important factors for their job satisfaction was there was a wide spread of answers. The top 10 factors in office satisfaction for employees were:
| | |
| --- | --- |
| 1 | Length of commute to work |
| 2 | Overall cleanliness of the office |
| 3 | Having access to a number of toilets |
| 4 | Good quality wireless technology |
| 5 | A quiet space for focused work |
| 6 | Good public transport connections |
| 7 | Having food facilities |
| 8 | The internal design/ layout of the office |
| 9 | Availability of meeting rooms |
| 10 | Personal storage space |
Source: BCO and Savills: What Workers Want 2016 http://www.bco.org.uk/Research/Publications/What_Workers_Want_2016.aspx
How can this help us plan an office refurbishment?
If you are planning the refurbishment of an existing office there may not be a lot you can do about the length of people's commute or about the public transport connections. However there are plenty of things on this list that can be addressed as part of an office refurbishment and none of them need to be expensive or elaborate.
These results show that many of the perks we often see in trendy office refurbishments are not really that important to most workers. While around 50% of workers said office cleanliness, and the number of toilets, was very important to them, less than 20% said having a gym or getting free snacks was important. Workers are very much more focussed on the practicalities of getting to work, getting their work done and having the basics looked after.
So when planning an office refurbishment making sure there are plenty of toilets available (and that they are going to be cleaned regularly) should be high on the priority list. Likewise providing coat racks or lockers for employees is an easy win.
Making sure there are quiet spaces to work and plenty of meeting room space may take slightly more effort. But given how important employees say they are it is worth seeing if they can be accommodated into your office refurbishment plans.
With a few tweaks here and there you can take make your office refurbishment project into a major selling point for new and existing employees.
Barnes Interiors do office refurbishment projects for a wide range of companies. We are based in Essex and complete office refurbishments in London, Essex and the surrounding areas. To find out more give us a call on 01376 528627 or email info@barnesinteriors.co.uk