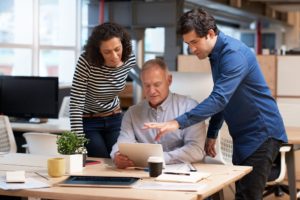 Office refurbishments are a big opportunity to improve your business. They can make your office space more efficient, and more welcoming for potential clients and business partners. However, office refurbishments do also come with risks. Whether you are moving to a new office, or refurbishing your existing office while in occupation, there will be some disruption to your business. Careful planning can help to manage this, and the costs, but there are a number of other risks that you should also consider.
Healthy and Safety
Health and safety needs careful thought, especially if your office refurbishment is being done while you are in occupation. You will need to work with your office refurbishment contractor to ensure that work can be done safely around your staff, and that safe access is maintained to the office and to toilets and kitchen areas. You will need to think about how noise and dust can be managed and whether some of the work ought to be done outside of office hours. Planning this out in advance will help to keep your staff safe and working happily.
Surveys
If you plan to remove, or move walls, floors and ceilings as part of your office refurbishment then it is vital to do a thorough survey. In older buildings it is not uncommon to find asbestos, dodgy wiring, structural problems and leaky pipes. Problems of this kind can significantly delay a refurbishment project and significantly increase costs. Doing a thorough survey before you start will help you know what to expect.
Insurance
When starting an office refurbishment project you should understand who has insurance and what it covers. If you don't own your office building then the landlords will likely have some insurance, you should have some and the office refurbishment company should have some. However, you may need to ask your insurance provider if your policy covers building works and check exactly what cover the contractor has. A simple way to approach this is to ask what happens if there is a fire during the refurbishment work or someone gets injured. Whose insurance would cover this?
Lease
Most office leases will have a dilapidations clause which requires the office be kept to an appropriate state of repair and that any alternations are rectified at the end of the lease. If you are going to be doing major changes to the interior layout of an office this could land you with a big bill if you ever plan to leave. However, if the changes you are planning are going to improve the office this will also increase the value for the landlord so it may be possible to re-negotiate the dilapidations. To reduce the long term risk of your office refurbishment project this is something you will want to discuss with the landlords before you start work.
Disruption
If you are doing an office refurbishment while in occupation, or moving to a new office there will be some disruption to your business. Desks will normally need to be moved which means unplugging phones, computer and other IT equipment. Meeting rooms may be out of action, and parts of the office may be off limits for a few days at a time. All of this is likely to have some impact on productivity and this needs to be planned for. Doing your office refurbishment at a quiet time of year and carefully planning around it will keep the disruption to your business to a minimum.
Planning for Risks
At Barnes Interiors we provide a complete office refurbishment service that includes project management. We use our experience and expertise as an office refurbishment company to identify and manage risks. This will include working closely with you to minimize disruption and to ensure that works are completed on time and in a safe and responsible way. To find out more give us a call on 01376 528627 or email info@barnesinteriors.co.uk