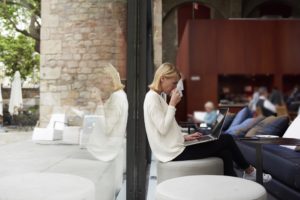 Part of our service as an office refurbishment company is coming up with office refurbishment ideas. Some businesses and organisations that we deal with have very firm ideas on what they want from their office refurbishment. They come to us with images they have found online, or tell us about an office they have seen. Other clients come to us with no solid ideas on their office refurbishment other than that they want it to look better. Either way it is part of our job to come up with an office refurbishment concept that will suit their business and their budget.
There are two major aspects to office refurbishment ideas. These are how the office will work and the image you want it to project.
How will your office work?
A well thought out office refurbishment will improve the productivity of your office and improve staff morale. A badly thought out office refurbishment will do the opposite.
When coming up with ideas for an office refurbishment it is important to think about the different things your office gets used for and the groups who use it. So, you may want to think about:
Do you have a professional looking waiting area for visitors?
What path do visitors follow to reach the meeting rooms?
How big do meeting rooms need to be, and how many do you need?
Do you want to create space for informal meetings?
Where should different teams and staff members sit?
How far are people away from tea and coffee making facilities and toilets?
Are there issues in your current office with noise, light or heat levels?
How will your office space look?
The practicalities of how your office space will work will dictate a lot of the layout. You then need to decide on an overall style. There is a trend at the moment towards very relaxed office spaces with sofas, plants and mismatched furniture. This looks great if you are a tech or design business in East London but may not suit a firm of chartered accountants or structural engineers.
How your office looks projects an image to visitors but it also projects an image to employees as well. A good way to think about it is whether your office matches your dress code. Is it formal, smart casual or dress down?
Doing the work for you
While you will want to have some input into the ideas for your office refurbishment the point of hiring a company like Barnes Interiors is that we will do a lot of it for you. We can present you with different office refurbishment ideas and you can have as much or as little input as you like. Once you have approved the ideas for your office refurbishment we will provide a full project management service for your office refurbishment so you don't have to worry about it.
To find out more about Barnes Interiors' office refurbishment services give us a call on 01376 528627 or email info@barnesinteriors.co.uk